With a legal/tax background (Ghent University), Herman Coppens started his career at KPMG. After that, he went on to the Generale Bank, where for more than ten years he mainly occupied tax positions. "In the late 90s I was in charge of the stock listing of property investment funds," he explains. He moved to Petercam in 1999, and in 2001 he became a partner at the family office Praxis, and assisted wealthy families in the search for banker- and lawyer relationships. In 2004, he became the managing director of Intertrust Belgium.
You became the Group Head of Compliance of the Intertrust Group in 2010.
HERMAN COPPENS. "That's right". That was a big change. It felt as I moved from hunter to ranger (laughs). I held that position until July 2017, when I left the company after a restructuring. However, the compliance (adherence to rules of conduct in an organization, note from the editor) remained. For a while, I did so as a self-employed person, and a number of assignments followed. I joint CapitalatWork, an independent asset manager, initially as a freelancer and fairly soon as employee."
What attracted you most in this position ?
HERMAN COPPENS. "CapitalatWork is a medium asset management company, offering many challenges and opportunities including a fairly responsibility as chief compliance officer.
We also work with short and, above all, swift decision-making lines. The compliance department is a small team, three people in Luxembourg and two in Belgium, including myself.
As a result, you are very close to the management. My working week is divided between Belgium and Luxembourg every week. This presence in the different group offices is crucial."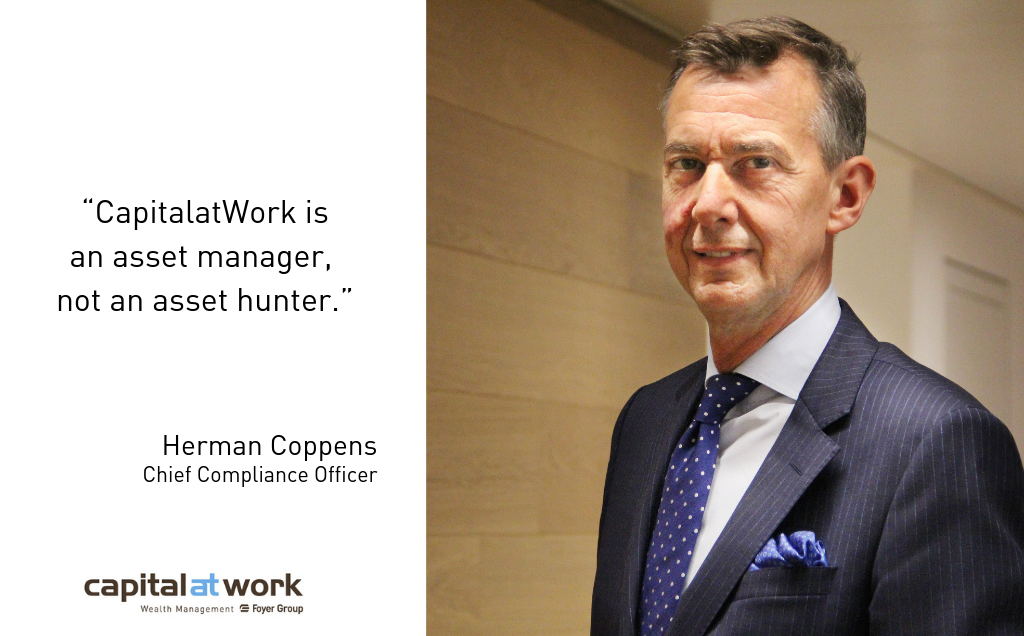 What did you notice in the past year ?
HERMAN COPPENS. 'You have to keep your eye on the ball. That is a general rule. Liabilities are also increasing, regardless of the size of the firm. This means that you, as a medium sized player, also have to meet all these requirements. On the other hand, you must also see it positively. The fact that the hurdles are being set higher is good for transparency and improves the industry. CapitalatWork emphasizes that it's an asset manager and not an asset hunter. I think that is important'.
What objectives do you set in the first place ?
HERMAN COPPENS. "Many things are moving in the financial industry. Eand communication developed with last Strict rules have been set by legislation and regulations. This is a serious challenge, because I need to properly understand the underlying technique.
"You have to look at it all more broadly, I think. In my view, compliance is not a separate department, but a fully-fledged part of the business. You have to cultivate a certain degree of automatism among colleagues. When our fund managers meet a customer, they must immediately ask themselves what exactly needs to be done regarding compliance. To do so, you need a chief compliance officer who is not isolated in an ivory tower. You have to support the business. I try to provide that example."